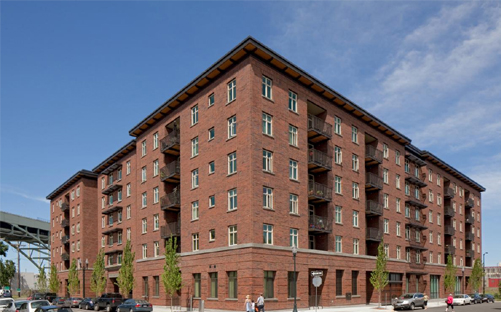 Radon Testing for Multi-Family Buildings
Reliable Radon Inspections specializes in radon testing for multifamily structures for HUD multifamily buildings.  We understand the unique requirements and specifications for radon testing for HUD / FHA loans as well as other loans like Freddie or Fannie Mae.
HUD Radon Testing has been a major priority for the U.S. Department of Housing and Urban Development (HUD) since 2013.
HUD Radon Testing

Radon testing for multifamily buildings such as apartments or health care facilities requires special care and protocols to be followed to make sure the radon levels are tested for and documented correctly.
HUD And Radon
HUD issued a policy in 2013 designated to reduce the number of radon-caused lung cancer deaths in the United States. It requires that all multifamily homes, as well as most FHA loans to be tested for radon and mediated if the level is above 4.0 pCi/L.
Because radon is an invisible, odorless gas, it is impossible to detect without a radon test. The EPA estimates that 21,000 people die from radon-induced lung cancer each year, meaning radon is more hazardous than second-hand smoke or asbestos.
HUD Requires a radon inspection report to be included for:
Multifamily Accelerated Processing (MAP)
Traditional Application Processing (TAP)
New construction or substantial rehabilitation of multifamily housing
Purchase or refinance of existing multifamily rental housing
Construction or substantial rehabilitation of rental housing for elderly or disabled
The radon inspection report must be prepared by a radon professional who holds certification from the American Association of Radon Scientists and Technologists National Radon Proficiency Program (AARST NRPP) or the National Radon Safety Board (NRSB) as well as holds the applicable state licenses where required.
Tenants, landlords, construction companies, and buyers of FHA-insured new constructions should always test for radon in their buildings. Our certified radon testing professionals can perform radon testing to ensure your building's environment is healthy.
In January 2021, HUD released new standards for radon testing for all new loan applications, as well as other transactional requests for existing Section 232 projects for residential care/assisted living facilities. Similar to the requirements for multifamily homes and most FHA-insured construction, these new Lean 232 requirements state that a radon report must be provided (with a few exceptions) and that the report must be signed and certified as to its compliance with the requirements by a radon professional certified with either the American Association of Radon Scientists and Technologists (AARST) or The National Radon Safety Board (NRSB). All radon testing must be performed by an AARST or NRSB Radon Professional.